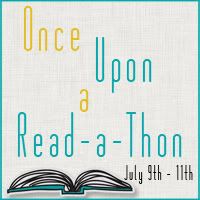 Well I just wanted to do a little update for the
Once Upon a Read-a-Thon
. I think I've been doing pretty well on my pacing so far, yay me! lol. I think at this rate I should be able to get through the rest pretty easily if I just stay on track!
These are the books I've finished so far:
Unspoken
by Sarah Rees Brennan
I liked this book a lot and I definitely see why so many other people did too! The humor was probably one of my favorite parts!
The Golden Lily
by Richelle Mead
I absolutely freaking LOVED this book!!!! All I have to say is Adrian Ivashkov *sigh* <3
The Perks of Being a Wallflower by Stephen Chbosky
I liked this one, it took me forever but I'm glad I read it. And now I'm ready to see the movie :) (love Emma Watson!)
And the books I have left to read are:
Jenny Pox
by J.L. Bryan
Really looking forward to this one! I've heard soooooo many good things about it!
Kissing Shakespeare
by Pamela Mingle
I'm hoping I'll like this one, I can get a bit picky with my Shakespeare themed books lol
The Burning Star
by Jessie Lane
This one sounds pretty interesting so I'm looking forward to starting it as well
Here's hoping I get my last three finished as planned! Hope everyone else is having as much fun with the Read-a-Thon as I am!!
Happy reading lovelies!