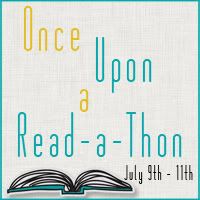 Okay so I'm just gonna go ahead and combine my
Once Upon a Read-a-Thon
progress from yesterday with my progress from today into one update post then I'll do another one late tonight (or tomorrow morning) with all of my final stats and what not! And I'll also have my mini challenges at the bottom of this post as well :)
Yesterday I finished reading:
Jenny Pox
by J.L. Bryan
Okay so I totally loved this book! It was definitely creepy (like whoa creepy!) but that just made it all the better!
So at this point counting yesterday and Monday, I've read:
Unspoken
by Sarah Rees Brennan
The Golden Lily
by Richelle Mead
The Perks of Being a Wallflower
by Stephen Chbosky
Jenny Pox
by J.L. Bryan
Which is four out of my six books that I had planned to read, I'm pretty happy with that lol.
And right now I'm currently reading:
Kissing Shakespeare
by Pamela Mingle
and
The Burning Star
by Jessie Lane
I had to work today so that cut into some of my reading time, but I'm hoping to finish both of these up by the end of the night!
----------------------------------------------------
Mini Challenge!
This challenge comes from
The Reader Bee
and the question is:
"What is your most anticipated book of 2012?"
Okay I have to say this is a hard question because I have sooooooo many anticipated books for this year! Lol. Some of which have already come out, and I know we can use one that's already come out as our answer but I'm gonna go with one I'm still waiting on. And that would be:
Alice in Zombieland by Gena Showalter
Synopsis:
"She won't rest until she's sent every walking corpse back to its grave. Forever.
Had anyone told Alice Bell that her entire life would change course between one heartbeat and the next, she would have laughed. From blissful to tragic, innocent to ruined? Please. But that's all it took. One heartbeat. A blink, a breath, a second, and everything she knew and loved was gone.
Her father was right. The monsters are real….
To avenge her family, Ali must learn to fight the undead. To survive, she must learn to trust the baddest of the bad boys, Cole Holland. But Cole has secrets of his own, and if Ali isn't careful, those secrets might just prove to be more dangerous than the zombies….
I wish I could go back and do a thousand things differently.
I'd tell my sister no.
I'd never beg my mother to talk to my dad.
I'd zip my lips and swallow those hateful words.
Or, barring all of that, I'd hug my sister, my mom and my dad one last time.
I'd tell them I love them.
I wish... Yeah, I wish." ~See it on Goodreads
Seriously?! How could I NOT be anticipating that book!
----------------------------------------------------
Happy reading lovelies!