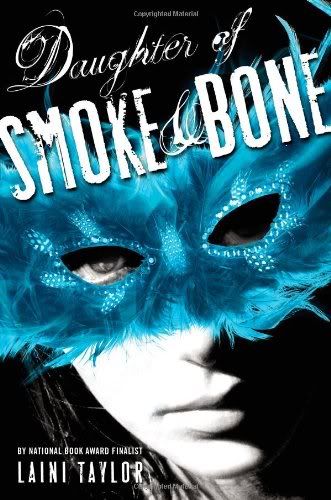 Title: Daughter of Smoke and Bone
Author: Laini Taylor
Genre: YA - Fantasy
"Around the world, black handprints are appearing on doorways, scorched there by winged strangers who have crept through a slit in the sky.
In a dark and dusty shop, a devil's supply of human teeth grown dangerously low.
And in the tangled lanes of Prague, a young art student is about to be caught up in a brutal otherwordly war.
Meet Karou. She fills her sketchbooks with monsters that may or may not be real; she's prone to disappearing on mysterious "errands"; she speaks many languages—not all of them human; and her bright blue hair actually grows out of her head that color. Who is she? That is the question that haunts her, and she's about to find out.
When one of the strangers—beautiful, haunted Akiva—fixes his fire-colored eyes on her in an alley in Marrakesh, the result is blood and starlight, secrets unveiled, and a star-crossed love whose roots drink deep of a violent past. But will Karou live to regret learning the truth about herself?"
~Goodreads
-------------------------------------------------------------------
Holy wow… I don't even know where to start. This book was amazing!
I had been dying to get my hands on this book ever since it came out! The synopsis had me hooked immediately and on top of that I kept seeing lots of rave reviews by my fellow blogger friends, so needless to say I was extremely excited when this lovely book made its way into my possession :)
Daughter of Smoke and Bone
had me totally and completely enthralled, it was even better than I was expecting! Ms. Taylor crafted such a wonderful and unique story, her writing is detailed, imaginative, and beautiful. It's a perfect mix of mythology and magic and the world you'll find yourself in is breath taking. I also loved the fact that the story is set in Prague, I've always thought it was a fascinating place and for this story it was the perfect backdrop.
I absolutely adored the characters, I felt a connection with them from the very beginning and I grew even more attached to them with every page. The characterization was so great, and even the minor characters stood out in their own way. I've mentioned time and time again how I love romance that's well done and the romance in
Daughter of Smoke and Bone
is a prime example of a well done romance in my opinion. I thought it was absolutely stunning and I loved every single bit of it.
This book was full of so much emotion you just can't help immersing yourself in it, and I didn't come up for air until the very last page. Needless to say I can't wait to read more and will be first in line to get the second book when it comes out.
5 huge stars!
"Hope can be a powerful force. Maybe there's no actual magic in it, but when you know what you hope for most and hold it like a light within you, you can make things happen, almost like magic." ~Daughter of Smoke and Bone