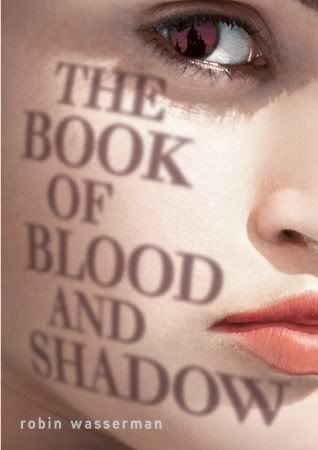 Title: The Book of Blood and Shadow
Author: Robin Wasserman
Genre: YA - Mystery - Suspense
Publication Date: April 10th, 2012
"It was like a nightmare, but there was no waking up. When the night began, Nora had two best friends and an embarrassingly storybook one true love. When it ended, she had nothing but blood on her hands and an echoing scream that stopped only when the tranquilizers pierced her veins and left her in the merciful dark.
But the next morning, it was all still true: Chris was dead. His girlfriend Adriane, Nora's best friend, was catatonic. And Max, Nora's sweet, smart, soft-spoken Prince Charming, was gone. He was also—according to the police, according to her parents, according to everyone—a murderer.
Desperate to prove his innocence, Nora follows the trail of blood, no matter where it leads. It ultimately brings her to the ancient streets of Prague, where she is drawn into a dark web of secret societies and shadowy conspirators, all driven by a mad desire to possess something that might not even exist. For buried in a centuries-old manuscript is the secret to ultimate knowledge and communion with the divine; it is said that he who controls the Lumen Dei controls the world. Unbeknownst to her, Nora now holds the crucial key to unlocking its secrets. Her night of blood is just one piece in a puzzle that spans continents and centuries. Solving it may be the only way she can save her own life."
~Goodreads
---------------------------------------------------------------------------
I was so excited to read this book after hearing rave reviews from friends of mine, and I have to say this was even better than I expected it to be! It's like the Da Vinci Code but with a bit of a steampunk flair, and as much as I loved the Da Vinci Code I have to say that I loved this book even more.
This book literally sucked me in from the very first page and I barely had time to come up for air, needless to say I couldn't put it down. The characters were amazing and I was able to connect with not only them but also with the story itself. I loved the historical setting that Ms. Wasserman created, it was incredible. I went through so many emotions while I was reading this book, from happiness to anger, from sadness to shock. It was truly a believable mystery and just when I thought I was figuring something out, a new twist came about and pulled me deeper into the story.
The attention to detail that the author put into this book was very obvious, her descriptions were done in a way that wouldn't be considered over the top and they fit the story perfectly. There's a little bit of romance but it doesn't take away from the suspense and main focus of the story, which I really liked.
This is easily going on my list of favorites for this year, I'm so glad I had a chance to read it and I can't wait until the publication date so I can buy a hardcopy! And I'll definitely be picking up more books by Ms. Wasserman.
If you're a fan of thrilling mysteries, history, romance, suspense, and action, or if you're just looking for a great must read for 2012, then I highly recommend this book. It's one you don't want to miss for sure!
5 Stars!