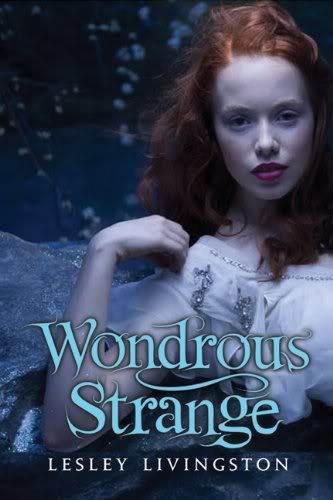 Title: Wondrous Strange
Author: Lesley Livingston
Genre: YA - Paranormal - Urban Fantasy
"17 year-old Kelley Winslow doesn't believe in Faeries. Not unless they're the kind that you find in a theatre, spouting Shakespeare—the kind that Kelley so desperately wishes she could be: onstage, under lights, with a pair of sparkly wings strapped to her shoulders. But as the understudy in a two-bit, hopelessly off-off-Broadway production of A Midsummer Night's Dream, wishing is probably the closest she's going to get to becoming a Faerie Queen. At least, that's what she thinks... In this fun, urban fantasy, Kelley's off-stage life suddenly becomes as complicated as one of Shakespeare's plot twists when a nighttime trip to Central Park holds more than meets the mortal eye."
~Goodreads
------------------------------------------------------------------------
Wondrous Strange was even better than I thought it would be! I'm sure you all know by now I'm a sucker for Faerie books and all things Shakespeare, so it's not surprising that I picked this book up. I love the fact the author included elements from Shakespeare in this story, as well as classic Faerie lore. It really added to the story and created an amazing background for everything to play out on.
Kelly Winslow is our main character, and I absolutely loved her! She was real and honest, a bit snarky, and not one to be bossed around. When she finds out the unbelievable news about who she really is and the fact that faeries are indeed real, she doesn't just accept it on the spot. It takes some convincing. And I actually liked that, because she reacted like any normal person would. Now if someone told me faeries were real I may not react in the most expected manner but that's just because I adore faeries lol.
Sonny is probably one of my favorite male characters I've come across in awhile, he's sweet and romantic but not in an over the top, unreal way. He cares about Kelly and doesn't treat her badly, or act all indifferent towards her. Sonny and Kelly are so believable together, and their relationship grows at a perfect pace. So there's no insta-romance, or teen-angst to worry about in this book. Overall I think the author did a great job with all of the characters, even the minor characters are really memorable, like Chloe for instance. She's Kelly's roommate who also happens to be more than she seems… and then there's Bob I loved him too and you'd be surprised to learn more about him… but I shall stop now, don't wanna give away spoilers hehe :p
Another thing I liked is having the story set in NYC and Central Park; it added an urban feel to it, while the faerie elements gave it the fantasy feel as well. I also thought that switching the narratives between Kelly and Sonny's POV's was a nice twist to the story because you get to experience what each of their versions.
Overall this book was a wonderful read, I really loved it. For those of you who love faeries and urban fantasy and haven't read it, you simply must do so!
4.5 Stars!