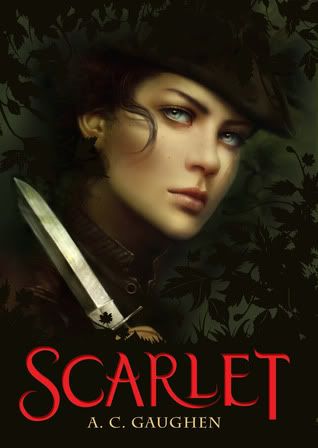 Title: Scarlet
Author: A.C. Gaughen
Genre: YA - Action/Adventure - Historical Fiction - Re-telling
Publication Date: February 14th, 2012
"Many readers know the tale of Robin Hood, but they will be swept away by this new version full of action, secrets, and romance.
Posing as one of Robin Hood's thieves to avoid the wrath of the evil Thief Taker Lord Gisbourne, Scarlet has kept her identity secret from all of Nottinghamshire. Only the Hood and his band know the truth: the agile thief posing as a whip of a boy is actually a fearless young woman with a secret past. Helping the people of Nottingham outwit the corrupt Sheriff of Nottingham could cost Scarlet her life as Gisbourne closes in. It's only her fierce loyalty to Robin—whose quick smiles and sharp temper have the rare power to unsettle her—that keeps Scarlet going and makes this fight worth dying for."
~Goodreads
-------------------------------------------------------------
This book is easily one of my favorite reads of the year so far! I've always loved the original tale of Robin Hood but I've had my disappointments with some of the re-tellings I've come across in the past, but I was absolutely enthralled by this one and in no way disappointed! It had me riveted from beginning to end!
The action in this book starts fairly quickly and you're wrapped up in the thrilling world that Ms. Gaughen expertly creates. All of the characters were different and had their own unique personalities; they came alive within the pages and added so much depth to the story. Scarlet is a wonderful character. She has such a strength and confidence about her from the very beginning, and by the end of the story you see how much she's grown and changed into a deeper and more complex person.
I thought the romance areas of the story were realistic and flowed perfectly. There is a slight love triangle but it was executed extremely well and didn't distract me from the main storyline, so I didn't have any issues with that. I also really loved the style of the writing itself, it definitely had a classic feel to it and I think it matched beautifully with the setting of the story.
It was extremely difficult for me to tear myself away from this story and I couldn't get to the next page fast enough. I adored this book and I'm desperately hoping there is going to be a sequel because to put it simply, I'm dying to read more! Riveting, full of action, spectacular characters, and a lovely romance,
Scarlet
is definitely a must read!
5 Stars!