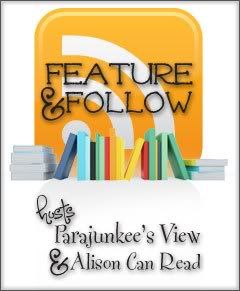 ------------------------------------------------------------------------------------------------
Q: Which book genre do you avoid at all costs and why?
A.
I can't think of one genre in particular that I avoid constantly. I read a really wide range of genres, and I do have my favorites of course but it really just depends on if the book grabs my interest enough regardless of what genre it falls under. I used to stay far away from Horror books because I'm a wimp lol, but here lately I've been easing into it with some of the less scary ones and I've actually enjoyed them.
I guess it just depends, there are a few genres I haven't really gotten into yet so I can't say if I'd avoid them for sure or not lol.
Also I just want to mention that since GFC won't be allowing non-Blogger followers after March, if you're not a Blogger member I would really appreciate it if you'd consider following me through email or RSS. Thanks so much to everyone who follows already and to any new followers!