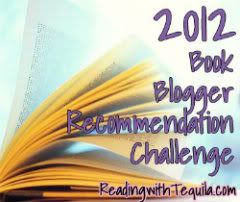 -----------------------------------------------------------------
The Rules:
~Challenge will run
January 1, 2012
to
December 31, 2012.
Participants can join anytime throughout the challenge.
~Create an intro post, linking back to this post.
~Sign up with the MckLinky below. Please link to your challenge intro post,
not your blog home page.
~Chose your own books from the list. You can decide to read books only on the Top 25 list or from the entire recommendation list. You do not have to make a list of books before the challenge begins.
~All forms of books acceptable (audiobooks, eBooks, etc.)
~Rereads do not count towards the completion of the challenge. The challenge is about discovering books that are new to you.
You don't need a blog to participate.
~Reviews, while always appreciated, are not mandatory.
-----------------------------------------------------------------
The Levels:
Level I
- Read 5 books from the 2011 Book Blogger Recommendation List
Level III
- Read 15 books
-----------------------------------------------------------------
I'm going to do
Level II,
and the books I'll be reading for the challenge are:
1. "Across the Universe" ~ Beth Revis
2. "Beauty Queens" ~ Libba Bray
3. "The Name of the Star" ~ Maureen Johnson
4. "The Maze Runner" ~ James Dashner
5. "Delirium" Lauren Oliver
6. "Daughter of Smoke and Bone" ~ Laini Taylor
7. "Enclave" ~ Ann Aguirre
8. "The Last Unicorn" ~ Peter Beagle
9. "City of Bones" ~ Cassandra Clare
10. "Outlander" ~ Diana Gabaldon
I really like the idea of this challenge, there are several books on my list that I've been meaning to read but haven't picked up yet, so now I have an excuse lol. I'm looking forward to all the great reading to come this year :)