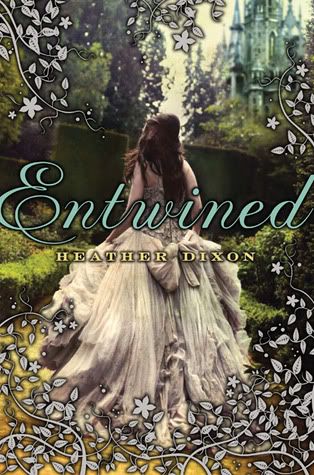 Title: Entwined
Author: Heather Dixon
Genre: Fantasy/Fairy Tale - YA - Romance
"Azalea is trapped. Just when she should feel that everything is before her . . . beautiful gowns, dashing suitors, balls filled with dancing . . . it's taken away. All of it.
The Keeper understands. He's trapped, too, held for centuries within the walls of the palace. And so he extends an invitation.
Every night, Azalea and her eleven sisters may step through the enchanted passage in their room to dance in his silver forest.
But there is a cost. The Keeper likes to keep things.
Azalea may not realize how tangled she is in his web until it is too late."
~Goodreads
---------------------------------------------------------------------
Entwined is a lovely re-telling of
the
Grimm Brothers' classic, The Twelve Dancing Princesses
.
I have to say, I've always had a love for all of the classic fairy tales, so obviously when I found this book I had to read it. I was pulled in from the beginning of the story and it kept me immersed until the very end.
I really liked the character of Azalea, she is the heroine of the story and the oldest of the twelve sisters. Her character was very loyal and protective of her eleven younger sisters, being the third oldest out of eight kids I can relate to that feeling. Before I started this book one of the things I wondered about was how would all of the sisters be portrayed? I was glad to see that even though there were so many of them, they each have their own unique personalities. Other than Azalea I think Bramble would be my other favorite out of all the sisters. Her personality is outspoken, ill-mannered, and fiery, and I have to say I loved that about her.
I also liked the fact that there was a certain
quirkiness and charm to the story, it fit perfectly with my own sense of humor and I had several giggle filled moments. The villain, Mr. Keeper, gave the story an element of dark creepiness and suspense. I found myself both fascinated and creeped out by his character. I think the combination of quirky and dark worked well together in this story.
I enjoyed the English style dialogue
and phrases that
Ms. Dixon used throughout the book. The descriptions were wonderful and made you feel as if you were actually there. I thought the
characterization
was very well done also. I did think the ending could have used a bit more action in some areas but overall it was a nice "happily ever after" ending and didn't leave any loose ends behind.
This book has humor, mystery, suspense, and romance, all of those things combined with a magical setting and delightful characters makes for a lovely fairy tale. I really enjoyed this book and was thoroughly entertained, I would recommend it to anyone who has a love for the classic fairy tales or for
anyone who is just looking for a fun, enchanting read.