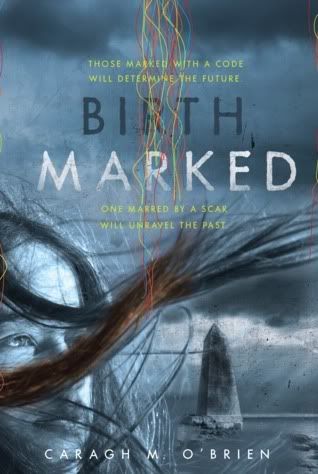 Title: Birthmarked (Birthmarked #1)
Author: Caragh M. O'Brien
Publication Date: March 30th, 2010
"After climate change, on the north shore of Unlake Superior, a dystopian world is divided between those who live inside the wall, and those, like sixteen-year-old midwife Gaia Stone, who live outside.
It's Gaia's job to "advance" a quota of infants from poverty into the walled Enclave, until the night one agonized mother objects, and Gaia's parents are arrested.

Badly scarred since childhood, Gaia is a strong, resourceful loner who begins to question her society. As Gaia's efforts to save her parents take her within the wall, she herself is arrested and imprisoned.

Fraught with difficult moral choices and rich with intricate layers of codes, Birthmarked explores a colorful, cruel, eerily familiar world where one girl can make all the difference, and a real hero makes her own moral code."
~Goodreads
-------------------------------------------------------------------------
I'd seen a mix of reviews on this book, so I wasn't sure what to expect from it. I debated on getting it for awhile but as I was deciding on which books to order I kept coming back to this one, so I gave in and ordered it. I've been enjoying dystopians a lot lately, and the storyline grabbed me as soon as I read the synopsis.
Gaia is the heroine of the story. She starts off a little naïve in the beginning and comes off as a bit jaded at times, but I still thought her character was brave, loyal, and determined. There were some parts where I felt like there was something lacking with her, but overall I like her character.
As for
Sargent

Grey

's (AKA:
Leon) character, I had mixed impressions of him in the beginning. At times he came off as kind of obnoxious and I wasn't all that thrilled with him, but as the book went on he started to grow on me until I actually started to like him. The romance between him and Gaia wasn't one of those, love-at-first-sight things which I appreciated. It seemed to move at a natural pace and there weren't any love triangles!
I did have a few nitpicks with the story, like how sometimes things seemed to be a little too coincidental, I guess that wasn't a huge issue but there could have been a bit more development in those areas. There were also a few parts of the story where things moved a little slow and others where they felt a little rushed, I don't want to go into detail here because I don't want to give away spoilers :p
The ending
was
very ambiguous and cliff hangery (yes I make up my own words :p )
and there were some loose ends that I wished would have been wrapped up. But seeing as this is the first book in a series, I'm hoping that those loose ends will be wrapped up in later installments.
I thought the storyline was unique and original, and it kept my interest. Despite the few nitpicks I had with it, overall I enjoyed this book. If you're a fan of dystopians I do recommend it.
3.5 Stars!
Have you read Birthmarked? what are your thoughts on it?