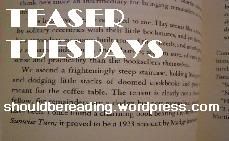 ~Grab your current read
~Open to a random page
~Share two "teaser" sentences from somewhere on that page
~Don't forget, no spoilers! (You don't want to ruin the book for others)
~Share the title & author too, so that others can add the book to their TBR Lists if they like your teasers!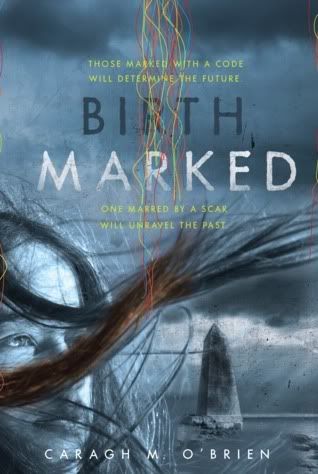 "Days passed in a nightmarish haze foe Gaia. The bleak reality of Q cell was so complete, so utterly opposite to her memories of life outside the wall, that it seemed to obliterate her previous existence entirely."
After climate change, on the north shore of Unlake Superior, a dystopian world is divided between those who live inside the wall, and those, like sixteen-year-old midwife Gaia Stone, who live outside. It's Gaia's job to "advance" a quota of infants from poverty into the walled Enclave, until the night one agonized mother objects, and Gaia's parents are arrested.

Badly scarred since childhood, Gaia is a strong, resourceful loner who begins to question her society. As Gaia's efforts to save her parents take her within the wall, she herself is arrested and imprisoned.

Fraught with difficult moral choices and rich with intricate layers of codes, Birthmarked explores a colorful, cruel, eerily familiar world where one girl can make all the difference, and a real hero makes her own moral code.
--------------------------------------------------------------------------
Yes I know another Dystopian novel :p I've gotten really hooked to this genre lately. The cover on this one is what really grabbed me in the first place, I hadn't heard of the book before but between the cover and the synopsis I knew it was something I had to read. I'm liking this book so far and glad I picked it up.
Hope you enjoy the teaser! :)