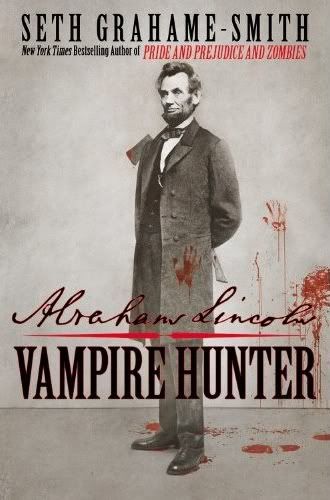 Title: Abraham Lincoln: Vampire Hunter
Author: Seth Grahame-Smith
Genre: Historical Fiction/Horror/Fantasy
Publication Date: March 2nd, 2010
"When Abraham Lincoln was nine years old, his mother died from an ailment called the "milk sickness." Only later did he learn that his mother's deadly affliction was actually the work of a local vampire, seeking to collect on Abe's father's unfortunate debts.
When the truth became known to the young Abraham Lincoln, he wrote in his journal:
henceforth my life shall be one of rigorous study and devotion. I shall become learned in all things—a master of mind and body. And this mastery shall have but one purpose.
"
While Abraham Lincoln is widely lauded for reuniting the North with the South and abolishing slavery from our country, no one has ever understood his valiant fight for what it really was. That is, until Seth Grahame-Smith stumbled upon
The Journal of Abraham Lincoln
, and became the first living person to lay eyes on it in more than 140 years.
Using the journal as his guide and writing in the grand biographical style of Doris Kearns Goodwin and David McCullough, Seth has reconstructed the true life story of our greatest president for the first time—all while revealing the hidden history behind the Civil War, and uncovering the massive role vampires played in the birth, growth, and near-death of our nation." -Goodreads
-------------------------------------------------------------------------------------
First off I just have to say Abraham Lincoln was one pretty awesome guy, and not to mention extremely tough after having gone through all of the things he did.
This novel was written in such a way that you feel like you're reading a true memoir and not a fictional novel. It had such a realistic feel to it that at times it was somewhat creepy (kudos to the author on that) I'd never read anything by Seth Grahame Smith before, and I'd seen this book out in bookstores for quite awhile but didn't really take a special interest in it. I hadn't really heard much about it in the way of reviews and such so I was a little hesitant to pick it up. A good friend of mine recently read this book and suggested it to me, she gave it a good review and had really enjoyed it. I really trust her opinion and taste in books so I decided to get it, I was in the middle of reading several other books when I got it so I waited a bit to start it, but once I did I couldn't put it down.
The amount of detail and historical information the author put into this novel gave it a wonderful depth, the story just completely captured you, pulling you in deeper with every page. At times I was literally tense and holding my breath because I was so drawn into the story that was unfolding in front of my eyes. I also really liked the way the author portrayed the vampires, there wasn't any cheesyness in that area (which I greatly appreciated) and they fit in seamlessly with the rest of the novel. Needless to say the writing was top notch. There are a few other things I could mention but I don't want to give away any spoilers ;)
This was really a great read, if you're a history or vampire lover I definitely recommend this book. And if you're like me and love both then it's a perfect fit!
4.5 Stars!