So I totally just came across some posts for this while I was visiting some friends blogs and was like, "Omg!" lol. I was too late to participate last year but I had planned on doing it this year, and surprise, surprise I completely forgot about it! *facepalm* But luckily I caught it in time to get in on the Read-a-Ton! I'm a tad bit behind on my reading (I've been trying to get caught up lately) so this is a great way for me to get back on track :)
The books I'm gonna try to get through are:
1. Unspoken by Sarah Rees Brennan
2. The Golden Lily by Richelle Mead (This one will be devoured! Lol)
3. The Perks of Being a Wallflower by Stephen Chbosky
4. Jenny Pox by J.L. Bryan
5. Kissing Shakespeare by Pamela Mingle
6. The Burning Star by Jessie Lane
I'm not sure if I'll get to all of these books but I'm gonna do my best and try to read them all! :D
If you'd like to get in one the Read-a-Thin before it starts just click on the button at the bottom to sing/link up! :)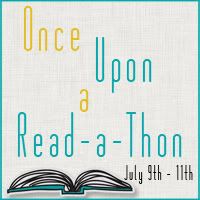 Happy reading lovelies!