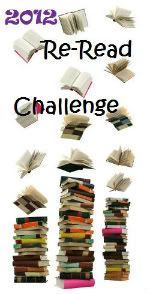 The

2012 Re-Read Challenge

is being hosted by my good friend Pixie @

The Bookaholic

. If you'd like more info on how to participate in the challenge be sure to check out her post

HERE

. And if you join in the fun be sure to check back at her blog for updates, giveaways, and mini-challenges that will go along with the Re-Read challenge!
------------------------------------------------------
This is my list of books that I'll be re-reading for the challenge:
1. The Hobbit/The Lord of the Rings series ~J.R.R. Tolkien
2. The Hunger Games/Catching Fire/Mockingjay ~Suzanne Collins
3. Wuthering Heights ~Emily Bronte
4. The Book Thief ~Markus Zusak
5. The Vampire Academy series/Bloodlines ~Richelle Mead
6. A Midsummer Nights Dream/Macbeth ~Shakespeare
7. Peter Pan ~J.M. Barrie
8. Eragon/Eldest/Brisingr ~Christopher Paolini
9. Jane Eyre ~Charlotte Bronte
10. The Hollow Kingdom/Close Kin/In the Coils of the Snake ~Clare B. Dunkle
What books are you planning to re-read this year?