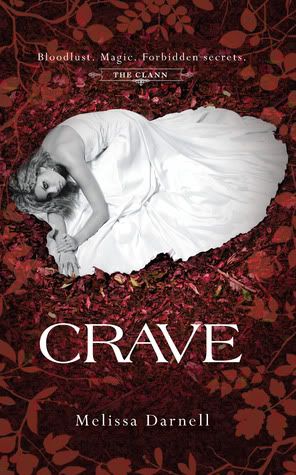 Title: Crave
Author: Melissa Darnell
Publication Date: October 18th, 2011
Genre: YA /Paranormal Fantasy
"Savannah Colbert has never known why she's so hated by the kids of the Clann. Nor can she deny her instinct to get close to Clann golden boy Tristan Coleman. Especially when she recovers from a strange illness and the attraction becomes nearly irresistible. It's as if he's a magnet, pulling her gaze, her thoughts, even her dreams. Her family has warned her to have nothing to do with him, or any members of the Clann. But when Tristan is suddenly everywhere she goes, Savannah fears she's destined to fail.
For years, Tristan has been forbidden to even speak to Savannah Colbert. Then Savannah disappears from school for a week and comes back…different, and suddenly he can't stay away. Boys seem intoxicated just from looking at her. His own family becomes stricter than ever. And Tristan has to fight his own urge to protect her, to be near her no matter the consequences…."
~Goodreads
----------------------------------------------------------------------
First off I'd like to thank
NetGalley
and
Harlequin Teen
for the opportunity to read Crave.
Well I have to admit I had kind of high expectations for
Crave
but unfortunately it just didn't measure up for me. It was a unique and fascinating idea but as I got further into the story the execution of it kind of fell a bit flat. I thought the characters needed more depth, I felt like I didn't know enough about them to really connect with them. The emotions in the story didn't feel very realistic to me so I couldn't really connect there either, I also thought that the pace was a bit slow.
In this book Ms. Darnell alternates telling the story from Savannah's point of view, and then from Tristan's. I know some people don't like when books have shifting POV's and find it confusing, but in this book I think it worked really well and the transitions between each POV were smooth and it wasn't confusing to the story. Despite the issues I had with this book I still enjoyed it for the most part, it was an easy and still held an element of interest.
I may still read the sequel because I do like the storyline and I think the combination of vampires and witches is an interesting mix, and I'd also like to see where the author goes with the rest of the story. That said, the next book probably won't be at the very top of my TBR list.