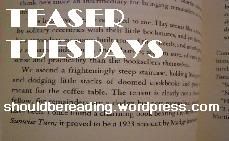 ~Grab your current read
~Open to a random page
~Share two "teaser" sentences from somewhere on that page
~Don't forget, no spoilers! (You don't want to ruin the book for others)
~Share the title & author too, so that others can add the book to their TBR Lists if they like your teasers!
Glass Houses (Morganville Vampires #1)
By: Rachel Caine
"Claire froze, unable to breathe, as she heard a soft noise in the chapel. Like fabric moving. A bare whisper, maybe just a curtain moving in the air conditioned breeze, right? Or. . . "Hello," said the very pale woman leaning over the pew and looking down on her. "You would be Claire, I believe."
Page 194
Book Synopsis
"From the author of the popular Weather Warden series comes the debut of an exciting new series set in Morganville, Texas, where you would be well advised to avoid being out after dark.

College freshman Claire Danvers has had enough of her nightmarish dorm situation. When Claire heads off-campus, the imposing old house where she finds a room may not be much better. Her new roommates don't show many signs of life, but they'll have Claire's back when the town's deepest secrets come crawling out, hungry for fresh blood."
~Goodreads
-------------------------------------------------------------------------
I'm really liking this book so far! A good friend recommended it to me and I'm so glad I picked it up. I'll definitely be continuing on with the series! :)
Also I have a giveaway I'm hosting right now, two people can win a copy of
The Heart Denied
by
Linda Anne Wulf!
To enter:
Fill out this form!