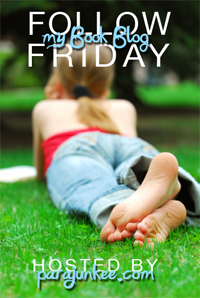 Follow Friday is hosted by
Parajunkee's View
If you want to participate, it's easy. To learn more and enter, check out:
Parajunkee
.
Join the fun and make some new friends!
Q. What do I do when I'm not reading?
A. Well there are a lot of other things I do when I'm not reading. School would probably be one that takes up quite a bit of my time, but luckily after Wednesday of next week I'll be completely finished! I'm rather excited about that if you couldn't tell lol. I just recently started working, so that also takes up some time. But seeing as how I have a job in a bookstore I'm not sure if I could actually call that "work" lol.
There's also writing of course, I write all the time but sometimes I still get a bit shy when it comes to sharing it. What can I say, I'm my own worst critic.
Then there's photography, I always have so many cool ideas for photo shoots. Now if I can just hunt down enough models I'll be good to go! ;)
I like to cook/bake a lot in my spare time, as well as crafting. I'm currently in the process of crocheting a big blanket for my bed, it's coming along rather nicely :)
I spend time with friends when we can get our schedules to match up and that's always fun :)
And of course we can't forget the everyday things like, cleaning, laundry, running errands, etc. When you live in a house with as many people as I do, there always seems to be some type of cleaning to be done :p
And obviously blogging is something I do when I'm not reading :) There's other things I could add but I think I've rambled enough for now lol.
Happy Friday lovlies! :)