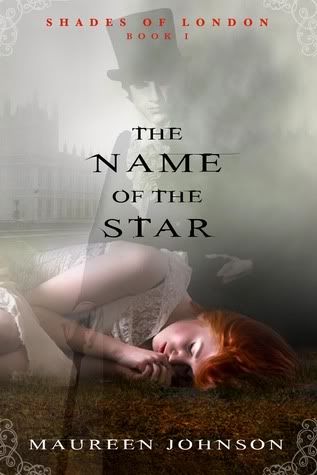 Title: The Name of the Star
Author: Maureen Johnson
Genre: YA - Paranormal - Mystery/Thriller
"The day Louisiana teenager Rory Deveaux arrives in London, it's the start of a new life at a boarding school. But for many, this will be remembered as the day a series of brutal murders broke out across the city, gruesome crimes mimicking the horrific Jack the Ripper events of more than a century ago."
~Goodreads
---------------------------------------------------
I just have to start out by saying that
The Name of the Star
is certainly another to add to the favorites list! I'm so glad I finally picked this up and read it because I really, really enjoyed it.
The whole premise of the story had me fascinated from the get go. The majority of people out there have at least heard of Jack the Ripper at some point, as it's a really popular case and there have been tons of movies and books made that are based off of the story. Ms. Johnson clearly did her research well; she incorporated real facts about Jack the Ripper along with her own creative plotline to make a unique and original story.
I loved the setting of the book, but honestly where else could the story take place other than London?? lol. The descriptions were detailed and really gave you a sense of the surroundings, and I also loved all the references to the English lingo and culture.
The characters were great; they all have interesting personalities and stand out in their own way. I loved Rory as the main character; she's not the typical type of heroine you're used to seeing in paranormal novels. She's loyal, trustworthy, and also kind of odd and quirky, which I liked about her. She's neither a wimp or incredibly brave, she has flaws and natural emotions just like everyone else and that makes her relatable.
Another thing I loved was the humor in this book, even though it's a paranormal/mystery/thriller there were parts that I found highly amusing and witty and literally made me laugh out loud. None of it felt out of place or interrupted the flow of the story so kudos to Ms. Johnson for that :)
One thing I didn't particularly love was the romance, it just felt a bit vague and I didn't get much of a connection between Rory and Jerome. But this is the first book in the series so maybe we'll see more of a development with it as the story goes on. The main POV was from Rory's perspective but at some parts it would shift to another characters POV and it was tad bit confusing differentiating

who's POV you were reading from, but despite those things I still really enjoyed it!
The Name of the Star
was full of mystery, action, humor, and suspense. If you're a paranormal lover I definitely think it's worth a read. I'm looking forward to reading the next installment!
4 Stars!
"I decided to deflect her attitude by giving a long, Southern answer. I come from people who know how to draw things out. Annoy a Southerner, and we will drain away the moments of your life with our slow, detailed replies until you are nothing but a husk of your former self and that much closer to death." ~The Name of the Star