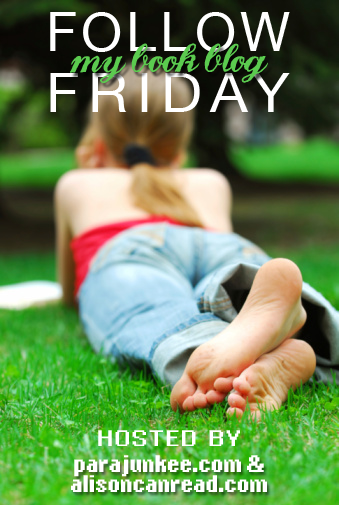 Follow Friday is hosted by the lovely
Parajunkee's View
and
Alison
at
Alison Can Read
. If you'd like to participate, it's easy. To learn more and get started, go check out:
Parajunkee
and
A
lison Can Read
.
Join the fun and make some new friends!
------------------------------------------------------------------------------------------------
Q: It's Thanksgiving Day in the U.S. so we want to know what you are Thankful for – blogging related of course! Who has helped you out along the way? What books are you thankful for reading?
A.
I've met so many awesome bloggers since I started blogging, I wouldn't want to miss anyone by trying to name them all lol. So I'll list the one person that's been such a big help and supported me from the beginning and always tried her best to answer all my questions (believe me there were a lot, and I still ask some lol). My bestie,
Pixie
over at
The Bookaholic
,
I actually knew her before I started blogging, she's an awesome friend/blogger/writer. Be sure to check out her blog if you haven't already, you'll love it and she'll really appreciate it, as will I :)
Some of the books I'm thankful for would be the books that have had an impact on me personally. William Shakespeare is definitely one that's at the top of the list, as well as Harry Potter. Also books like Wuthering Heights, The Lord of the Rings trilogy, The Wicked Lovely series, The Hunger Games, The Vampire Academy series, and also some childhood favorites like Peter Pan, and Dr. Seuss.
Some of my favorite books of 2011:
I also want to say thanks to all of my Twitter followers, I know a lot of them follow me here on my blog as well and I just want to let you all know I really appreciate the support!! :)
Happy Friday lovelies!