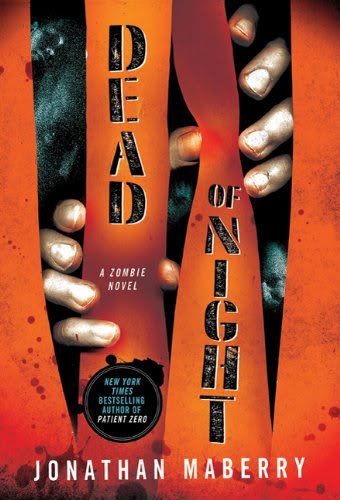 Title: Dead of Night
Author: Jonathan Maberry
Publication Date: October 25th, 2011
Genre: Horror
"A prison doctor injects a condemned serial killer with a formula designed to keep his consciousness awake while his body rots in the grave. But all drugs have unforeseen side-effects. Before he could be buried, the killer wakes up. Hungry. Infected. Contagious. This is the way the world ends. Not with a bang…but a bite."
~Goodreads
-----------------------------------------------
First off I'd like to thank NetGalley and St. Martin's Griffin, for the chance to read Dead of Night!
Dead of Night
was definitely a thrilling read! I was on the edge of my seat throughout the entire thing, and I couldn't get to the next page fast enough!
I've always thought zombies were interesting so I decided it was time to see what the hype over all these zombie books was about. I'm really glad I decided to start out with
Jonathan Maberry's
books! I was hooked on his writing style from the start, it's elegant, yet riveting at the same time and I had a very hard to tearing myself away from reading this book!
The characters were all well developed and it was easy to feel a connection with them. I really liked how he told the story through from each characters POV, I think it added depth to the story by letting the reader kind of get a glimpse into each characters head/thoughts while the events were happening. I liked how the zombies were created; it was a unique idea and fit well with the whole plotline of the story (which by the way was brilliantly developed!). I think the thing I loved the most about the story was how real it seemed, I think that gave it even more depth and added a lot to the fright-factor.
By the end of the book I was covered in goose bumps and just about speechless, I'm also certain I gasped out loud quite a few times. I thoroughly enjoyed
Dead of Night
and I'm really looking forward to reading more by
Jonathan Maberry
! If you're a zombie/horror fan I would definitely recommend this book, it's so worth the read!