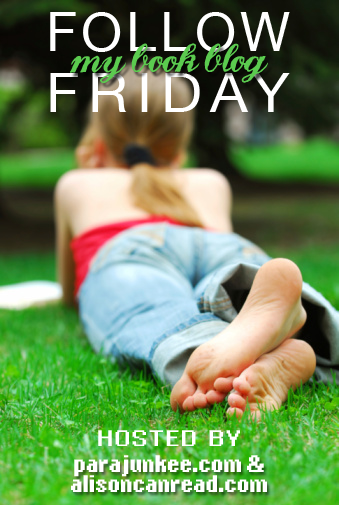 Follow Friday is hosted by the lovely
Parajunkee's View
and Alison at
Alison Can Read
. If you'd like to participate, it's easy. To learn more and get started, go check out:
Parajunkee
and
Alison Can Read

.
Join the fun and make some new friends!
--------------------------------------------------------------------------------------------
Q. Do you have a favorite series that you read over and over again? Tell us a bit about it and why you keep on revisiting it?
A.
Seems like I'm always mentioning
Harry
Potter
lol, but that's a series I re-read usually once a year. Every time I read the books I'm enthralled all over again and I re-discover why I love them so much. To put it simply
Harry Potter
is amazing.
Another series I re-read a lot would be
The
Wicked Lovely
series. It's one of my favorite faerie series, I adore the characters and love immersing myself in their world over and over again. I'm a huge
Melissa
Marr
fan period but this particular series will always be one of my favorites.
Of course
Richelle Mead's, Vampire Academy
series is a big re-read favorite. The characters, the setting, and the storyline in general constantly keep me coming back to the series. I can never get enough of
VA
and I'm sure I'll be returning to it for years and years.
Now to go a bit old school, it's not a series but one of my favorite books of all time is
Wuthering
Heights
. The first time I read it was when I was 13 and I fell in love with it. The writing is gorgeous, and the characters are fascinating and memorable. I re-read this book every year, sometimes more than once. It's one of my favorite classics, and if I have kids someday they will be reading it at least once lol. For anyone who hasn't read it, I definitely recommend it!
Again not a series but, I re-read my favorite plays by
Shakespeare
constantly (Shakespeare geek here). A to name just a few,
Romeo and
Juliet
,
The Tempest
,
Macbeth
, and
A Midsummer Night's Dream
. I honestly think that if you haven't read anything by
Shakespeare
, you're really missing out. He was a true literary genius not only in his time, but for centuries to come.
And with that I shall stop my rambling, although I could go on and on lol :p
Happy Friday lovelies!