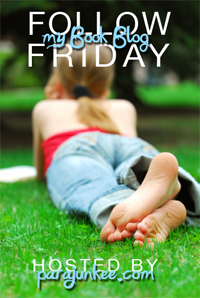 Follow Friday is hosted by
Parajunkee's View
If you want to participate, it's easy. To learn more and enter, check out:
Parajunkee
.
Join the fun and make some new friends!
Q. Let's step away from besties...What is the worst book that you've ever read and actually finished?
A. I haven't read a ton of books that I thought were just terrible, but as with any reader you're not going to love every book you read.
And e
ven if I don't like a book I still finish it, I'm not sure why it could just be the OCD part of me coming out. Anyways, back to the question.
No
w don't kill me... but for me, one of the worst books I've read would have to be Twilight by Stephanie Meyer... *checks to make sure there isn't an angry mob banging down my door*....
Now I know there are a lot of people who love all things Twilight, but for me it just didn't make the cut. When I was reading this book I kept finding myself wondering why it had gotten so much hype because I just didn't see it, When I got to then end I remember being relieved that I was finished with it. Usually when I start reading a series I can't wait to get my hands on the next book, but with Twilight
It wasn't like that at all. To this day I still haven't had any desire whatsoever to read the other three books in the series and honestly I never will.
Now none of that is meant to bash the author in any way, it's just my honest opinion and impression of the book. It wasn't for me but I know a lot of people who really love it. So it all just comes down to everyone's personal preference.
Happy Friday, lovlies! :)